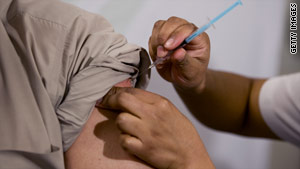 The CDC is encouraging more people to get vaccinated against the H1N1 virus.
STORY HIGHLIGHTS
H1N1 virus is still in circulation and still killing people, health official says
23.4 percent of the population have gotten the vaccine, a CDC survey estimates
Flu season doesn't end until May, and vaccine is best prevention, officials say
Atlanta, Georgia (CNN) -- Federal health officials urged Friday that more Americans get vaccinated against the H1N1 flu virus, sometimes referred to as swine flu, which continues to kill.
Most states are reporting only sporadic or local flu activity, but Dr. Anne Schuchat, who heads the National Center for Immunization and Respiratory Diseases at the Centers for Disease Control and Prevention, warned against complacency, telling reporters the virus is still a threat.
According to the CDC, the H1N1 virus is still the overwhelmingly predominant flu virus in circulation. Of the 124 million doses of vaccine made available in the United States, 70 million Americans -- 23.4 percent of the population -- have gotten the vaccine, a CDC survey estimated.
Schuchat sounded pleased with those figures, but urged those who haven't been vaccinated to do so. "Individual cases of H1N1 continue to occur and people are being hospitalized and they're dying," Schuchat said.
The CDC estimates that 7,880 to 16,460 H1N1-related deaths occurred between April, when the virus emerged, and December 12.
Schuchat added that 37 percent of children younger than 18 have been vaccinated, though not all of them are fully protected. Children have been among the populations hardest hit by the virus. Nine pediatric deaths were reported to the CDC in the past week and the agency estimates that 830 to 1,730 children have died from complications of the virus since April.
Schuchat said slightly more than a third of children under age 10 have received the second dose of vaccine young children need for full protection and urged parents to make sure they follow through.
"It would just be tragic for you to have gone so far to do the right thing and have your child get sick because they weren't completely protected," she said.
Health officials continue to encourage vaccination because they say it's the best way to protect against infection and because there are still several months left in the flu season, which typically ends in May.
But a Harvard School of Public Health survey published Friday reports that nearly half of Americans (44 percent) say they believe the outbreak is over. Only 32 percent said they were concerned that someone in their immediate family would contact the disease, down from 40 percent in December.
The survey of 1,419 adults, carried out January 20-25, had a margin of error of plus-or-minus 3.24 percentage points.
International health officials have sounded defensive in recent days, given that the pandemic's toll has not proven as severe as some had predicted.
"The pandemic is not over, but to date, more than 14,000 laboratory-confirmed deaths have been reported," Dr. Keiji Fukuda reported last month at a Council of Europe hearing.
"Deaths from the pandemic have been confirmed one by one through laboratory tests and unquestionably are much lower than the true number," said Fukuda, who is the World Health Organization's special adviser on pandemic influenza to the director-general.
He rejected accusations that WHO policies were influenced by the pharmaceutical industry. "The labeling of the pandemic as 'fake' is to ignore recent history and science and to trivialize the deaths of over 14,000 people and the many additional serious illnesses experienced by others," he said.
CNN Medical News Managing Editor Miriam Falco contributed to this story.